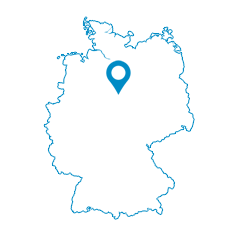 Germany
Mannesmann Großrohr GmbH
Internal pipe coating
It all began in 2007, when Mannesmann Großrohr GmbH from Salzgitter first ordered a DUOMIX 300 with electrical control including a feeding and refilling system for internal pipe coatings. 14 years later, in December 2021, the customer wanted this unit to be equipped with special Coriolis measuring cells matched to the materials used. Together with WIWA's engineering department, a solution was found and a quotation was prepared. For comparison, Mannesmann wanted a quotation for a new DUOMIX 333 GX with premium electric control with touch display, Coriolis measuring cells, feeding and refilling system at the beginning of 2022. The dosing unit of the unit and the feeding system were to comply with ATEX directives, while the electrical control would be set up outside, in the non-Ex. area.
In the end, the existing WIWA feeding system remained in place. In addition, in May of the same year, the customer ordered a DUOMIX 333 GX on a stand specially designed for this application, with the requested Coriolis measuring cells and a premium electrical control system including a touch display. Due to the long procurement time, the commissioning by certified WIWA technicians including subsequent production support finally took place on site in March 2023.
Since then, the customer has been enjoying an absolutely reliable, robust and easy-to-operate unit for processing various epoxy resin-based materials. With a pressure ratio of 64:1, it pumps around 9.53 liters at 30 double strokes. It is also equipped with four material fluid heaters.
Incidentally, even though retrofitting the 14-year-old DUOMIX was too expensive compared to buying a completely new system, it was by no means taken out of service. As a backup system and for processing other materials, it continues to provide loyal service to Mannesmann.